New Platform Allows Gamers to Compete for Virtual Currency, Prizes and More; ShootMania Storm to Launch Premier Event with "Royal Feast" Competition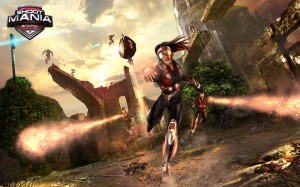 SAN FRANCISCO – May 23, 2013 – Ubisoft is partnering with Beyond Gaming to launch a new social and community hub for competitive gaming across Ubisoft core brands.  The hub will use Beyond Gaming's "Play For It!" platform to allow players to test their skills in Ubisoft's core titles in online events to win virtual currency and real-world prizes from supporting sponsors.  The new destination is now live at http://beyondgaming.com/ubisoft.
ShootMania "Royal Feast" (May 24 – June 2)
The premiere event for this new hub will be the "Royal Feast," featuring Ubisoft's new online competitive first person shooter, ShootMania Storm.  Starting May 24th and running through June 2nd, players can log in to Beyond Gaming to sign-up for the tournament and then compete in ShootMania Storm's intense "Royal" (free-for-all) mode in an all-out battle for supremacy and prizes.
Players can play as many matches as they like to climb the Royal Feast Ladder and secure their spot in the Semi-Finals, scheduled for June 1st.  Prizes up for grabs include $10 digital pizza coupons from Papa John's Pizza, DVDs from Columbia House, and many more from Ubisoft, iBuyPower, Gunnar Optiks and Creative Labs.  At the end of the open competition, the top 100 players will compete for one of ten spots in the Finals on June 2nd, and a shot at the grand prize: a package featuring a Revolt Gaming PC provided by iBuyPower.
Those interested in competing in Royal Feast should visit  http://beyondgaming.com/ubisoft to register.  Additional information about other games and events will be released in the future.