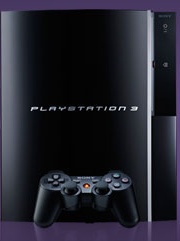 Since the newest PS3 firmware has been dropped upon us, it's always a great time to whine about features we don't have and hope that the next firmware brings them.  (Side note: The new trophy look is great, love the comparison between level and percentage to the next level).  These are simple suggestions as to some improvements the PS3 system could make to become an even better console (and also to shutup fanboys).  So calm down if you got heated about the topic (if you did, you're a fanboy too) and just read on. 
1. Find a Way to kill off installs – Luck for you Sony, I've solved this one for you.  Now get it done.
2. Across game Voice Chat – Personally I don't get this one, but people keep asking for it.  In my mind even if I talk to a buddy while he's/she's playing a game and we decide to get into a match together, I still have to swap discs.  It would be useful however, when trying to arrange said games.  Or you know, you could just use a telephone.
3. Rename files on Hard drive – Currently I have the MGS4 Soundtrack on my PS3 hard drive (It rocks).  However, the music naming system didn't recgnize the CD as Metal Gear and as such I have a bunch of generic named tracks in a generic named folder.  Not such a big deal if I could rename them right then and there, but I can't.  This one should be an easy firmware fix.  While we're on the subject….
Make it easier to do playlists.  It's such a pain now.  Like a big pain.  Fix it please.
4. Shutdown After Downloading/idle when downloading – This is one feature that the 360 has that I love.  While PS3 does have Life With Playstation which offers a time table to shut down your system that still leaves the guesswork of when's it going to end?  Either you waste time and power by setting it too long , or you don't give it enough time and come back to a uncomplete download.  Either situation is simply not cool and in enabling a shutdown after download, this issue is removed.
This was added in 2.5!  Way to go Sony!
5. More Trophy Support – This one is and isn't directly Sony related.  Sony has a lot of control over what is allowed to launch on PS3.  While they are trying to be a more freeform platform as evidenced in PSN vs. XBLA game rules, they need to be a little more hardcore on this one.  I'll be the first to admit that I am a trophy/acheivement whore.  I won't necessarily go out of my way for one, but I'm watching those details to see if it makes sense to throw a little more effort in or just forget it.  Certain games don't force whoring (The Gears of War grenade kill achievement comes to mind here), but rather implement challenges to encourage you to get a bit more hardcore (Earth Defense Force 2017 only has achievements for difficulty completions, and it gets hard fast).  This issue is already on it's way to being corrected, but it would also be awesome if more games step back in time and add trophies (retroactive please!) for prior released games (Games that I want to display my ass-kicking ability in through trophies: Heavenly Sword, Metal Gear Solid 4, Tools of Destruction, Metal Gear Solid 4, and did I mention Metal Gear Solid 4?  Cmon! The emblems are already made! Just add the trophies support so I can proudly earn and display The Boss Emblem to all!) 
This may be a large request for developers who have of course moved on to other games, but I know I'm not the only PS3 gamer that would appreciate a little retro trophy love.
These next two are more cosmetic than anything else…
6. More avatars! – I'm happy with my Altair Avatar currently (cause Altair is a badass) but it would be nice to have more options.  It's been noted that a few avatars have popped up (just as Altair did) but even more could and should be added.  Heck 360 even sells these, not that I support it, but Sony could as well (Meh).  Custom avatars would be fantastic (Although as we've seen from LBP, that means genitals…)
7. About me – Here's a fun one, try to explain yourself to the rest of the Playstation Nation (A Nation?  Can we have an army?), in 3 WORDS.  Yup, that's it. The length of the words matters and many aren't going to use it but it would be nice to have an extended area that can actually get some type in there, even if you just use it to write down a hitman list of targets for COD4 play….or Burnout Rivals….or to call out your buddies seen playing Barbie games when you know they don't have kids…..
Also, have about expanding the avatar bubble a bit?  That one can't get too big, but a little more room (like a full sentence room) wouldn't hurt.
So there you have it, a small list of additions that gamers will continue to bitch about would appreciate. Think I left something out?  Leave it in the comments!