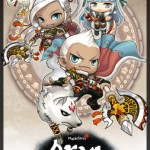 The Big Bang update will give NEXONs Fantasy MMORPG a whole new twist!
Luxembourg, June 30th 2011 – The Big Bang is the largest single update to ever come to MapleStory and is more than just another content update. It is a great opportunity to revisit the basic underpinnings and reorganize the inner workings of the game to make it more flexible and modern. The Big Bang will take everything players know about MapleStory and rewrite it down to its most basic level.
Three steps to a whole new experience
The Big Bang update will launch in July and enhance the MapleStory experience players are currently enjoying. The update not only brings a number of changes and additions to the game but also comes in three stages. The first update is called Big Bang and will arrive on the 21st of July, the 2nd stage will be released two weeks later and the 3rd stage of the update will hit in another two weeks time. With all the new additions to the game, players of MapleStory won't forget this eventful summer.
The new MapleStory
New maps, a completely redesigned interface and skill system, an updated combat formula and easier leveling are just a few of the big amount of changes, MapleStory players will face this summer. The focus was to help as many players as possible experience the varied content of MapleStory that Nexon developed the last 5 years.
Plenty of fun and joy
"We are very pleased to announce that Big Bang is coming in less than a month. With the Big Bang update, users will experience a whole new MapleStory with plenty of fun and joy and we hope our dear Maplers will indulge themselves to MapleStory during this summer season", says Sungjin Kim, CEO of Nexon Europe.
For more information on MapleStory, please visithttp://en.MapleStory.nexoneu.com or the official Facebook profilehttp://www.facebook.com/MapleStoryeurope.
About MapleStory
MapleStory is a free2play 2D Fantasy MMORPG first launched in South Korea in April 2003, allowing players to delve deep into an exciting online adventure to fight monsters, solve quests and join fellow gamers. Since then, MapleStory was able to delight nearly 100 million players worldwide by now; establishing NEXON's fantastic journey through Maple World as one of the most successful online games. More than 2 million European players are contributing to this huge community since May 2007, when the European service started in English, German, Spanish, French and Dutch.
About NEXON Europe
Established in March 2007, NEXON Europe is the European publishing arm of NEXON and has brought the worldwide hit casual MMORPG "MapleStory" to Europe in May 2007 and the successful First-Person-Shooter "Combat Arms" in January 2009. With the recent launch of 3D Fantasy MMORPG "Mabinogi", NEXON Europe has achieved the position of a promising publisher in Europe. NEXON Europe was also able to acquire and now fully operates "Atlantica Online", an innovative, tactical MMORPG in early 2011. For more information on NEXON Europe and its games, please visit the official website atwww.nexoneu.com and our blog blog.nexoneu.com.